Long Line Production bed - Half slab / Filigree for Roofs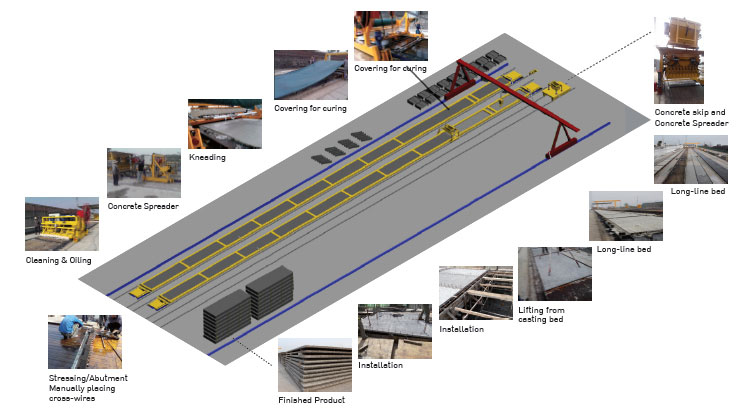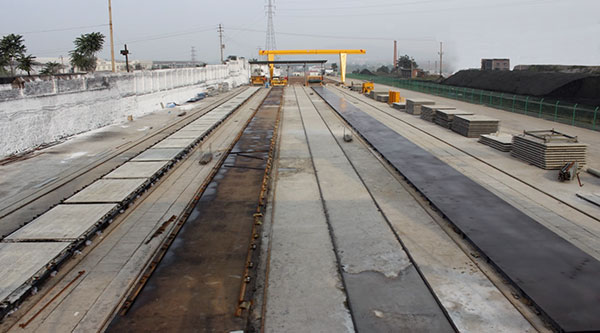 Plant & machinery of Long line Pedestal bed for precast half floor slab / lattice girder floors
A half floor slab / lattice girder floors (also called plate slab or filigree slab) is a reinforced concrete slab with a minimum thickness of 5 – 7 cm. The thickness of the finished floor slab is between 12 and 30 cm, depending on the span and the loading. The fundamental benefits are amongst other things a high-quality product at a reasonable price, extreme dimensioning versatility and rapid on-site installation.
The floor slab contains the torsionally stiff reinforcement (truss) that is required to give stiffness once installed, as well as the flexural tension reinforcement, lengthways and crossways, that is required for assembly and the final state.
The floor slab is made into a solid and monolithic reinforced concrete floor by using mix-in-situ concrete that is poured at the construction site and allows them to cooperate while bearing loads. Both floor layers are joint by lattice girders placed in an in-situ cast concrete and by rough precast element surface.
The most important advantages of a floor slab / lattice girder floors system are:
Shorten erecting time on site- Easy and fast erection, minimum installation crew needed.
Rebuild of internal walls while building process.
Elimination of shuttering
Simplification of reinforcement works
Elimination of soffit facing
Unlimited shaped elements (arches, holes)
Big exploitation loads (>10kN/m.)
Designing freedom for architects.
Cost effective alternative to plywood form-work system. Minimum propping required - less cluttering of the floor below to enable earlier access for other trades.
Customized size to project requirement.
High-grade concrete and robust section, thus ensuring quality composite flooring in comparison to total cast in-situ flooring.
Environmentally friendly with less construction waste being generated.
Cleaner and safer construction site, less health hazards to site workers.
Floor slabs assembly is made with a crane with appropriate load strength. For example floor elements that are 50 mm thick have a mass of 125 kg/m.
The protruding truss reinforcement and the concrete surface itself provide the required anchoring, ensuring good bonding and adhesion between the finished part and the mix-in-situ concrete.
Apart from some differences in the measurement of the pushing force, the floor slab can be regarded from a structural point of view as being the same as a floor that has been produced on site with concrete poured into casing. The floor slab thus combines the major advantages of prefabrication with the advantages of floors that have been produced on site with concrete poured into casing.
This most frequently used reinforced floor type is used for all applications in residential and commercial construction.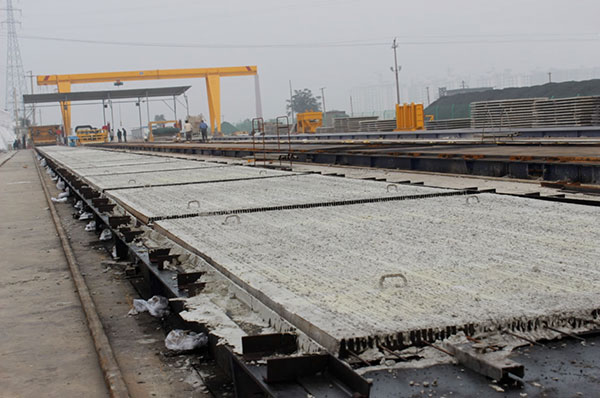 Requirements to set-up Precast Concrete Element Plant: -
For Maximum annual production capacity of say 2,50,000 m2 / year of Precast Concrete elements like Solid load bearing External walls, solid floors, Double layer walls or precast elements with core insulation, Partition walls / Internal wall panel, Composite slab panel, Beam, Column, Staircase, Double Tee, Balcony compound wall etc.
For best production facility with expansion plus in future setting –up of Hollow core slab production & storage, a good size of Precast Concrete factory area Totally required is about 70,000 – 1,00,000 square meters. (Say 25 acres).
About 170 meter x 25 meters - 2 bays are required for Precast Concrete elements production workshop. One line is the 'standard part production line' for standard parts; the other is the 'special part production line', which caters for the time-consuming operations such as fitting special reinforcement, required for special precast elements. Where jobs require an especially flexible response the pallet can be moved across to the other production line. On one line pallet circulating system is fitted & on other bay is for Special elements, Beam & Column, Double Tee, Tilting Tables & Battery mould etc., (Based on pallets with dimensions of 12 x 4 meter & At an utilization rate of 60 to 80% this allows the manufacture of approx. 25 to 30 m2 precast concrete parts per pallet per hour)
Attached with above plant 5,000 m2 for Concrete Batching & mixing plant (Approx. 180 m3/hr.) with storage of aggregates, sand & having 2 - 4 nos. of Cement silos etc., Steam boiler plant, Area for Reinforcing preparation workshop with Tools for cutting & forming steel reinforcement along with Steel fabrication & general workshop machinery for repair & maintenance, general store area plus finish good storage area 30,000 – 50,000 m2, Quality control dept., beside this, it also need to consider Administrating Building with all utilities, Staff Quarters.
Other requirements are Drinking Water storage tanks & pump house, Transformer sub Station for 1500 - 2000 KVA, Weighbridge - 60T, Good internal Road etc. plus vehicles, Trucks, Wheel Loader, forklift & Cranes etc. Full load production personnel required is approx. 200 - 400 nos. And roughly construction period required for above is 4 - 6 months minimum.
This allows the company to cater to Residential housing, commercial and Industrial construction needs, including modular products for schools, and many speciality products in addition to floor slabs and walls.